As Months Go By
It's four months to the day since Charlie's "episode" (the bleed that nearly killt him–7 weeks after falling from the bike and breaking a few bones).
Now that we've lived through a third of a year, we understand better that the healing curve is nice and Malthusian at first…Charlie went from a curled up ball with arms pressed to his heart (I think this is a sign of a really bad brain injury, according to the author of "Over My Head") to a guy who can, with careful supervision, walk about 4 miles with small 'balance disturbances' and stumbles. He still doesn't have a clue where he is–on which trail, how far, etc. Will the 'inner compass return?
I discovered an unfortunate fact: I've become my sharp-tongued, overworked mother Doreen. She had six 'accidents'*, one after the other, and we little Phelans were just so terribly inconvenient!
Mom and Dad were party animals, and we felt the sting of their resentful 'parenting' too often.
So I bark : "AUUGH!! WATCH your RIGHT FOOT–it's too close to the trail's edge" . I had chosen a single track trail up behind Deer Park School to hear all the little rills roaring down Bald Hill.
"I'll be careful. Sorry".
I cringe when I hear Charlie say "sorry".
It's ME who should be sorry for being shrill.
Yesterday we got in 90 minutes of walking, cleverly timed between rainstorms. Life is good. It's also not-so-great. Then it turns great again.
Our friend R. M. lost two rellies this week. Our other friend Nick F. brought us a feast of roast bird, potato, brown rice and veggies…and withdrew politely to allow Charlie that Alone Moment that his royal Shyness so patiently awaits.
This is in direct conflict for my wish for MORE people to visit….my battery gets charged by visits, while his battery drains away ….Is this TMI?
I believe one of the toughest things for Mr. Do-it-Yourself-Depend-On-No-One (so you won't have to engage socially) is the fact that now, since he's 'down', he must allow his mechanically worthless wife to seek assistance around Off Hand Manor. Our 60 yr old shingled shack, like any home, requires constant vigilance…today was typical: a leak from the woodstove flue. Somehow the 'hurricane cap' allows rain to drip right down from the roof to the floor. It is black and creosote-pungent. It might not be doing the unpolished hardwood floor any favor.
I discovered all that, and a wet floor just when we were celebrating the first day with no doctor's appointments in about 3 weeks….and now, partway thru making oatmeal, I had to change gears into "supplicant of support ", when I'd been such a helpful cook and housekeeper, chauffeuse and bed-warmer.
Mike Schultz came to the rescue (he and Scott Bowman are the only guys who wear as many hats , skill-wise, as Charlie).
By three this afternoon, there was enough slack in the sched that I could get out on my road bike and catch 2 hrs of fresh air, and upon return, Nick Fain was carrying a roast bird and pile of organic roast veggies, plus a bottle of rouge under his arm…so he spared me the hour's dinner prep. We didn't know what to do with the extra time so I had Charlie pen one of his patented thank you notes. He's able to write, but unable to read. Must learn more about this "pure alexia" condition, where somehow part of the brain can generate legible (if badly spelled) text, but in no way can it be re-read. It's like, as soon as it's on the page, a mysterious substance scrambles it, and the only way Charlie can read it is to put a finger on a letter, then look it up on the 26 letter alphabet on a plastic sheet that he keeps at the dinner table to 'decode' the occasional word. Each word takes about ten minutes to de-cipher. It's maddening, and he's trying to be patient, but both of us pray that at some point, a 'patch cord' will allow free interplay between the writing and the ability (not yet there) to read.
And: don't get us started about his ruined sight. There is only about 10% of his vision remaining and we don't know if it will come back. Of course one must be cheerful but er…can we just hurry thru the next 3 yrs to see if the eyesight returns to 50 % or so? Then he could ride a bike (not on pavement but on dirt, where things don't pull out in front of you suddenly , etc).
Ah…well, this is the day-in-the-life. Tomorrow Robbins Peek the PBP veteran tandemist will take Charlie round the county a little bit…and get him a schosh stronger.
*Irish term for "bundle of joy"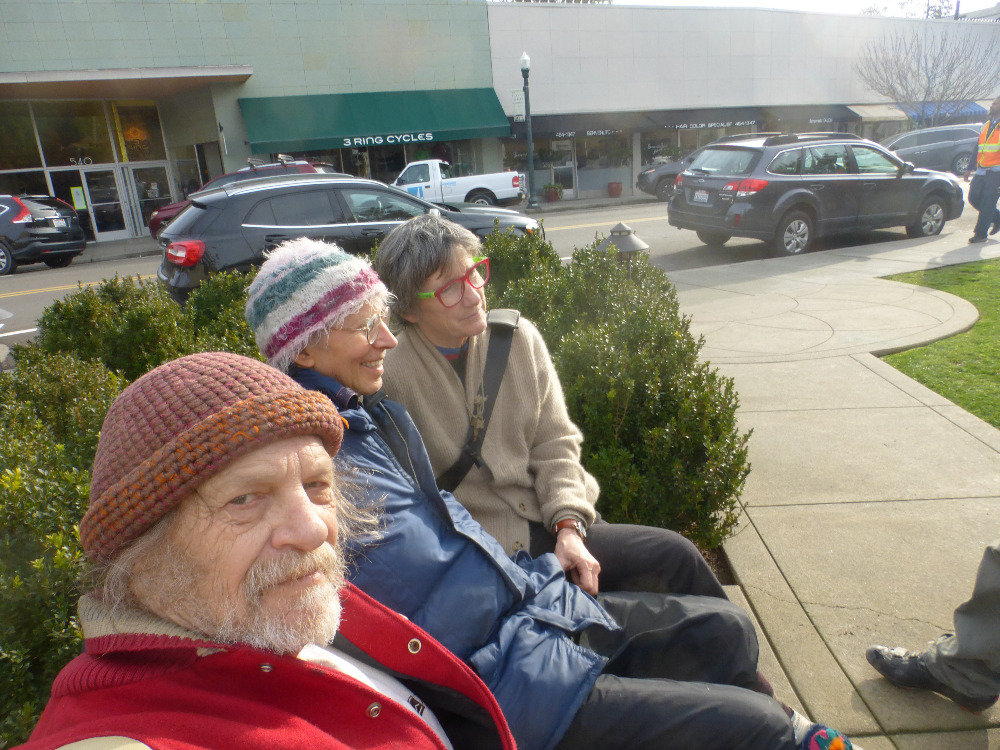 Here's a shot Charlie Kelly took of us at the local park last week.